I was awakened in my tent at 6:30 and offered hot coffee, chocolate or tea. I was also given a small basin of warm water to wash with. Yes there were several small luxuries on this trip. I had learned from Peru to get completely organized, packed, and ready to go before breakfast so that you could finish breakfast, brush your teeth, grab your pack, and be ready to go.
In my pack I carried waterproof jackets and pants, a couple of layers of extra clothing, two large Nalgene bottles full of water, a small pharmacy for whatever might transpire during the day, and some odds and ends of things like snacks, passport, wallet, Ipod, and camera. I also carried two tanzanite gems I'd bought in the hotel store. I would carry them to the summit and have them made into earrings for Rachel later.
At the meal tent Wilbert explained we would be walking about 5 miles to the western edge of the Shira Plateau and ending at Shira 1 camp at 11,500 feet. There are five distinct climate/ecological zones on Kilimanjaro: lower montagne forest, upper montagne forest, heath and moorland, alpine desert and summit. We had walked from lower to upper forest on the first day.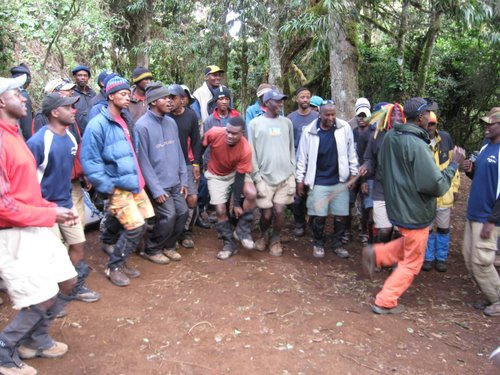 After breakfast we were treated to more dancing and singing. We of course were required to take part. As each of us danced in the center of the circle the Kiliwarriors would shout our name and weave us into the song.
After the fun, Wilbert, Faraja, Trish, George and I set off in a group while the porters set about taking down camp. Greg, Tony and Sean went with Hosea and Stefano and Giuseppe went with the fourth guide.
The day was cool and overcast, with occasional mist and fog. We enjoyed seeing the monkeys, including a spectacular colobus with its long, elegant white tail.
Mid morning, we suddenly realized we'd left the upper forest zone and were in the heath and moorland zone. It was a surprisingly distinct transition over only a few hundred feet of elevation. The vegetation was completely different with large (over 6 foot tall) heather plants to either side of the trail. We looked back from where we'd come and saw the band of forest below.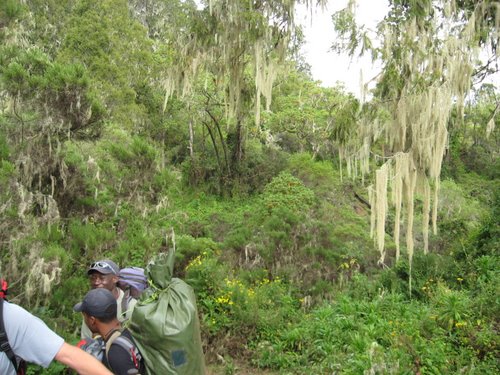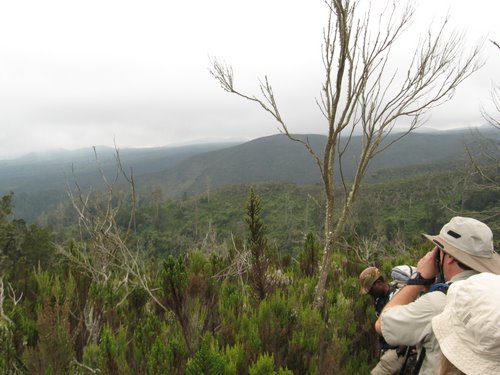 Not much more than an hour after we'd left, the porters passed us on the trail, having cleaned up after breakfast, taken down the camp, and sped on toward the lunch site. This was a twice-daily ritual for us to realize they were fast and we were not. I guess pole pole is not for the locals.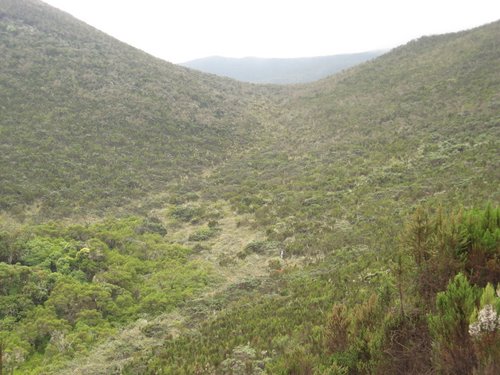 After lunch, I felt like hiking faster and asked Greg, Tony and Sean if they minded if I join them. It was fine with them. Hosea looked skeptical. For the first hour Hosea was with me like a mother hen, asking about every 5 minutes how I felt and if I wanted to rest. He gradually eased up when I showed no signs of collapsing and asked him a couple of times if he wanted to rest. Hosea was quiet, thoughtful, and perceptive and a genuinely great guy from the Chagga tribe, who are generally on the south and east slopes of the mountain and are skilled and educated farmers. We would get to know Hosea well over the course of the trek. We learned, among other things, about how many cows a prospective husband has to pay his intended's father for the privilege of marrying her. It's negotiable and depends on how much in demand she is, as one would expect.
The day alternated high overcast and low mist. Mid-afternoon we reached the edge of the Shira Plateau and the terrain flattened out and provided broad views.