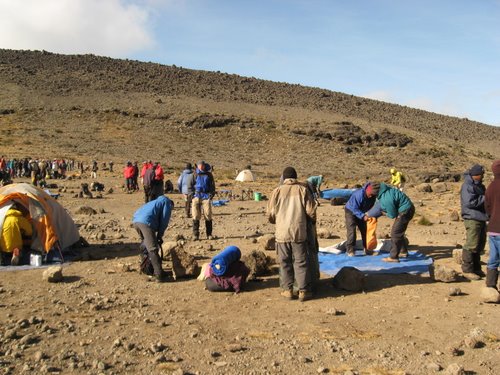 The next morning was sunny again. We set off on a 5.5 mile hike that would take us to 15,300ft at the top of the Lava Tower (optional but highly recommended for acclimitization) and then back down to near 13,000ft for the night. We were going to be near 13,000 feet for several days now for our bodies to adjust to the altitude and make summiting easier.
Even though we had shared a couple of nights at the same camp as the Mountain Madness group, we didn't see them. They had left before us in the mornings, and we didn't see anyone else all day. Mid morning on Day 4 the Machame trail joined our route and we saw other people for the first time. But it was just one group. We said hi and soon became separated again and had Africa to ourselves. The scenery was spectacular.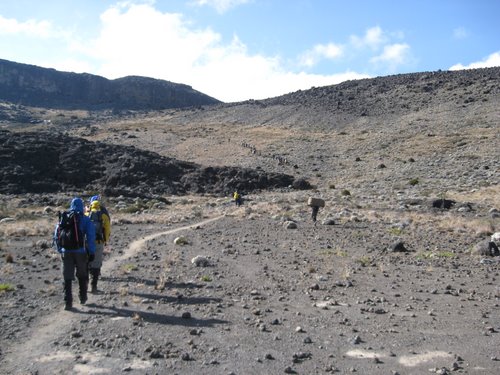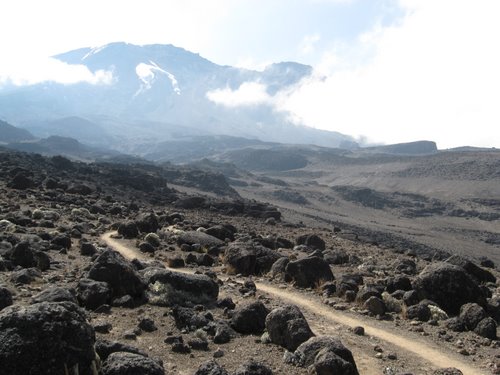 After lunch two of our three groups opted to climb the Lava Tower and we headed toward it. Arriving at the base, Hosea had us take off our packs and leave them at the base. The Tower was basically a 300 foot tall, almost vertical plug of lava sticking up from the surrounding territory. It wasn't difficult by rock climbing standards but you had to really pay attention in a couple of places. Since it was overcast and foggy we couldn't really appreciate what it looked like or get a view from the top. Looking on the web at other people's pictures I can see afterwards what we missed.
The rest of the day took us back down in elevation through a valley towards Barranco Camp.