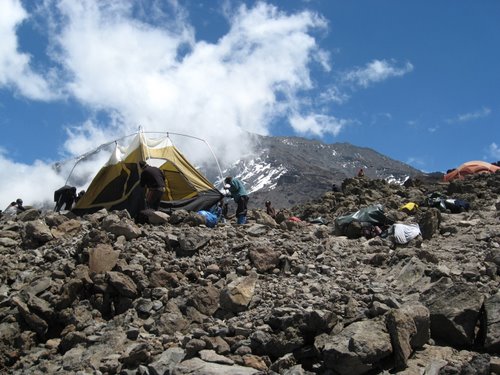 Barafu Camp is the departure point for the summit of Kibo. It is on a steep, exposed slope, at 15,200 feet. We arrived early afternoon into camp and the winds were fierce. The porters were struggling to erect a tent as we got there.
The ground is full of rocks and is so hard that tent stakes will not penetrate. The tents were anchored mostly with ropes tied to boulders. Not long after we arrived a huge gust picked up a four man tent and lifted it a couple of hundred feet in the air. It just swirled up there for over a minute, like Dorothy's house in the Wizard of Oz, before falling to the ground in the valley below. In an instant the porters were running down the mountain and they brought it back intact. Later when I was sitting in my tent I felt it being lifted off the ground as well. I was glad to have been sitting there.
I called Rachel on the satellite phone and told her I was well and excited about the next day. I also told her, fortunately as it turned out, not to expect me to call from the summit but the following day. It's funny how little time you really have on the expedition and when you're exhausted even little things like finding a guide, getting the phone set up, and making a call seem to take forever. I had not wanted her to worry if I didn't call.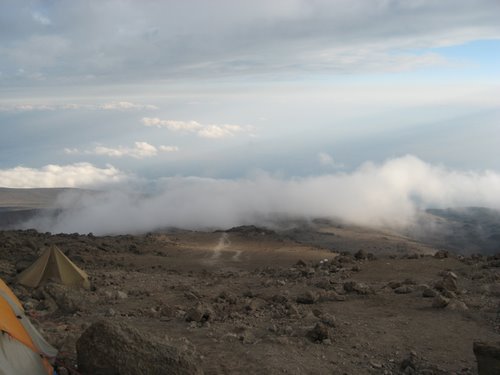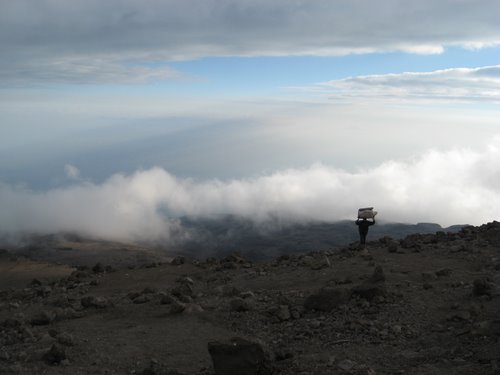 At dinner we got instructions for the next day. We would get up at 4:30am, have breakfast, and be on our way by 6am. The guides told us to wear our fleece trousers, lots of layers, and not to be late ! We were warned to take special care when walking around camp after dark as the drops are perilous and people have been killed looking for toilets and not watching where they are going.
We were all a bit worse for wear, but were mostly concerned about Trish and George, who had been steadily declining but had kept putting one foot in front of the other. Someone had run into the chatty lady from the Amsterdam airport and found out she had stayed at camp and had not attempted the summit. Her trip had been a day shorter than ours.