We were up by 6:00am and underway soon after a quick breakfast. It turned out that nobody else had slept at that altitude either. Many things had frozen, including the camp's water filter and some of my companions' water bottles and Ipods. Today we would walk 7.6 miles and drop 8500 feet in altitude.
It was a bright, sunny morning and we paused at Stella point for some pictures before heading back down the mountain. The way down was dusty and more like skiing through the scree than walking. After a couple of hours of this my thighs, which had been mostly unused on the way up, were complaining. My knees hurt too. It was harder going down than going up. We passed many hikers on their way up, and encouraged them. They were congratulating us.
We stopped for a brief rest and change of clothing (taking off our arctic wear and putting it in the duffel bags) at Barafu camp before continuing down the mountain toward Mweka camp where we would spend the night. All routes on our area of Kilimanjaro descend by a common route, not the same route they take on the way up. It quickly got warmer and the air seemed to be saturated with oxygen.
I was concerned about calling Rachel to tell her I was alright. We didn't have the satellite phone at Crater Camp because Wilbert carried it, and had gone down the mountain with Trish and George the day before. Hosea could communicate with Wilbert by walkie talkie but that was it. Hosea arranged for Wilbert to leave the phone at our lunch site so that I could call when we got in.
We were back in civilization for lunch, defined by the ability to buy water, coca cola, and beer from a park ranger who was stationed in a hut there. Tony, Greg and Sean bought cokes and beers for our entire expedition and I can't tell you how good that beer tasted. I reached Rachel, who had only been moderately worried, and told her as much as I could in a few minutes. I was really glad she hadn't been waiting a day to hear form me.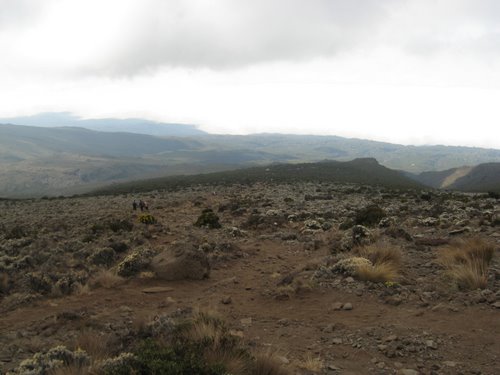 The scenery in the afternoon was wide open heath and moorland and we arrived at Mweka Camp in mid afternoon. We found Trish and George, and saw Trish smiling for the first time in many days. We could take showers, buy beer, and we had folding chairs to sit in at the campsite. We were back in the montagne forest. Luxury!
We played cards again that night for the first time in awhile. I had stopped taking Diamox that morning and slept the whole night through…probably the best night of the whole trip.