We were allowed to sleep in until 8:00 am and awoke to find the camp buzzing with activity. This was a large campsite with many groups. Kiliwarriors were the center of attention with their song and dance.
We were on the trail by 9:00. We had 5.5 miles to walk and we would drop another 4,500 feet of elevation by lunchtime. The trail was steeply down but well constructed and tended for the heavy traffic. Still, it was slippery from the high humidity and mist and we were glad, again, that it wasn't raining for that would have made it treacherous. We walked through rain forest with mosses, vines, flowers and lush green growth. The trail eventually turned into a road which led us to the waiting porters and the vans to take us back to the hotel.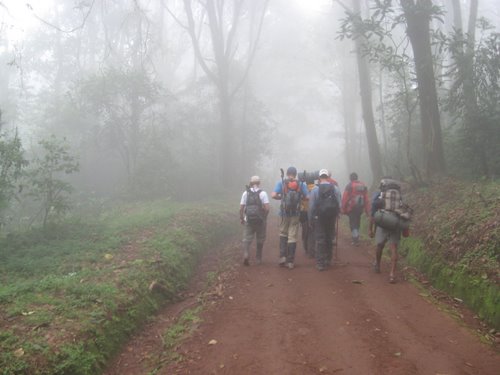 Kanini was there, with his trademark huge smile and multicolored wig, to greet and congratulate me one last time. Kiliwarriors had set up a private space near the park exit for our lunch and final ceremony with more singing, dancing, and celebration. Other groups, as they walked past, would stop and watch and take pictures and movies of all our activity. We received certificates, tipped and thanked all the guides and porters who had made our success, safety and enjoyment possible, said our last good-byes, and signed out of the park.