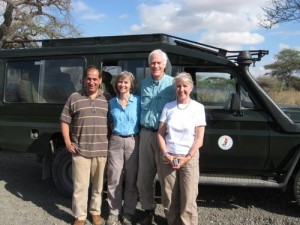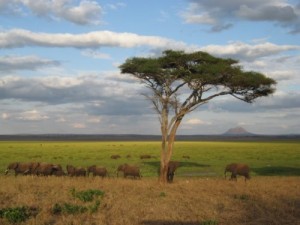 Rachel was flying to Arusha as we were hiking down the mountain. I didn't know how tired I'd be after the hike and I said that I would come to meet her if I could. If not there would be someone holding a sign with her name on it. She was supposed to get in the car with whoever that was. She took that one OK.
As it turned out, I had to break away from the party in the hotel to go with Gideon to meet her at the airport. Poor me. Her flight was uneventful, we drove back to the hotel, and after meeting a few of my friends and having a bite to eat in the restaurant we crashed for the night.
The next day, we were moving to a nearby hotel, meeting our good friends Sara and John Stubbing from England, and going on a 5 day safari together. Sara and John were flying in from Kenya where they were finishing another safari.
That trip will be memorialized somewhere else
(put link here).
It was actually spectacular in its own way, but in a different way than climbing the mountain. We parted company back in Arusha after it was over; Sara and John headed home to England and Rachel and I headed to Zanzibar.