I woke up after the first great night's sleep of the trip feeling fantastic. The sun was out again and we set off towards the Barranco Wall, a steep scramble that takes about an hour to climb. This would be a short day, a little over 3 miles, and only a couple hundred feet of net elevation gain.
Along the way starting seeing many more Senecio Kilimanjari, something like a cross between a palm tree and a cactus, that can get 10-15 feet tall. It's interesting how a plant that big survives up here.
We made it up the wall without incident and were treated to amazing views above the clouds at the top.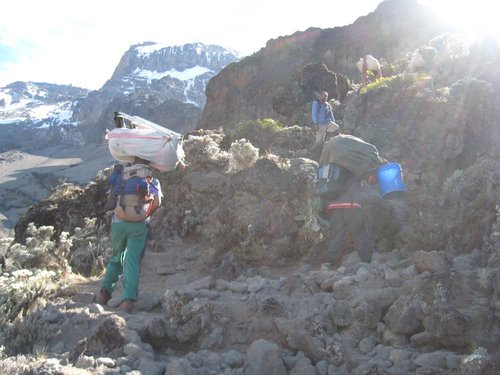 We continued through the Barranco Valley after lunch, stopping in the early afternoon to fill our water bottles at the bottom of another steep climb. Thirty minutes later we were in Karanga Valley Camp.