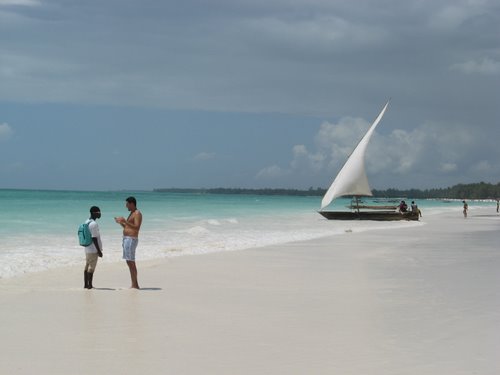 Meet Cathy, who's lived most everywhere From Zanzibar to Berkeley Square. But Patty's only seen the sights a girl can see from Brooklyn Heights. What a crazy pair! But they're cousins Identical cousins all the way One pair of matching bookends Different as night and day.
I watched the Patty Duke show on TV as a kid. It's funny what sticks in your mind. Cathy was wild, and had been to all the best places in the world. Zanzibar was an exotic name that must have been in my subconsious ever since. While I was planning the Africa trip and found out Zanzibar was part of Tanzania and easily accessible, the deal was done. We were going there!
After saying our goodbyes to Sara and John in Arusha we boarded a small plane to Zanzibar International. After landing we made our way to the waiting van and took a hair-raising 45 minute ride to the Blue Bay resort on the other side of the island. Nobody got killed, so I guess it was a good trip.
We arrived at the hotel and were shown to the room. Our room had a view of the Indian Ocean with its snow white sand beach and picturebook turquoise water. Flower petals on the four poster king size bed completed the mood.
I had mostly recovered during the safari from my hike, but a few days of absolute relaxation on Zanzibar were the perfect punctuation to a the adventure. Walking on the beach, sitting by the pool, and enjoying dinners in the outside restaurant. We made one excursion into Stone Town but that was it for cultural exploration.
Before long it was time to go home.